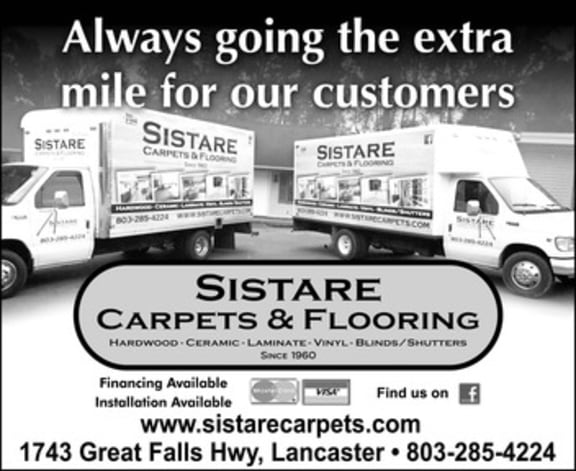 Sistare Carpets Inc.
---
Free In-Home Estimate
Free Design Consultation
---
Featured items from this store
---
Services
Installation

Repairs

Mobile Showroom Only

Cleaning

Remodeling
---
In Store Showroom
Hardwood

Carpet

Waterproof

Luxury Vinyl

Vinyl

Tile

Laminate

Cork

Area Rugs
---
Services
Estimates, Installation, Flooring Types, Repairs
---
Get Your FREE Quote Today!
---
Featured items from this store
---
---
Our Story
Sistare Carpets Inc. is a family owned business and has been in Lancaster since 1960.
The Sistare Carpets Inc. team specializes in flooring sales and installation. We take great pride in our word of mouth advertising and great reviews our customers have left us.
Our showroom offers a huge selection of area rugs, vinyl, tile, laminate & hardwood.
Come visit the Sistare Carpets Inc. showroom at: 1743 Great Falls Hwy, Lancaster, SC 29720, USA
---
Customer Reviews
"I am a real estate agent and flooring companies come and go. This is a family flooring company that has been around for over 60 years. I interviewed 4 companies before I settled on them. They showed up every day when they said they would. The young men were super professional and have also worked for the company for years. I truly loved my experience and I highly recommend them. Ronda Lusch"
"Mike has built an impressive business. This was my first time visiting and I was amazed at all the different options he has. Everything from carpet to hardwood to laminate to tile and lots of other things. You need to check out his place if you are looking for floor coverings."
"AWESOME doesn't even begin to describe our experience with this wonderful company! From the moment with met with Griggs & Mike to the installation by Jamie and his crew, we received the utmost care and respect. They truly treat their customers like family :-)"
"We wanted to write a review for Sistare and Joe Giardiello, our sales person. We were looking for a specific Mohawk carpet called Air.O. This carpet is hyperallergic and doesn't have the typical VOC (Volatile organic compounds). We have allergies to these items and wanted to have carpet vs hardwood flooring in our upstairs. Through our investigation, which was contacting the CEO's office of Mohawk office, (and they were very helpful, responded fast by phone and email, and had their local district representative Jerry even call us, and met us at Sistare) as we couldn't find a local retailer that actually had the samples or an installation team that ever-installed Air.O. So we went to Sistare, met Joe and Jerry. They had every sample color and even a large piece of Air.O installed on their showroom floor, vs other vendors who shipping us samples of 6" squares. We got to see large samples, bring them home and decide what color worked best for our home. Joe gave us a very fair price, which was in line with the other Mohawk carpets vendors, so we went with Sistare. Their installation team arrived (and they love installing Air.O, as the padding is already attached to the carpet, (this helps Mohawk control all the variables and keep this carpet hyperallergic) no tack strips or stretching needed) and did our 1600 square feet in 2 days. They moved all our furniture, put it back and cleaned up. Sistare then followed up with a phone call to insure we were happy and a thank you card. We don't have any problem highly recommending Sistare Carpet and Flooring store and we received the exact product we were looking for. Indian Land, SC"