Prestigious Flooring and Design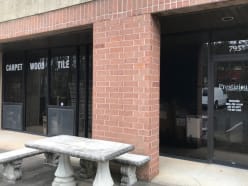 ---
Free In-Home Estimate
Free Design Consultation
---
Featured items from this store
---
Services
Installation

Repairs

Mobile Showroom Only

Cleaning

Remodeling
---
In Store Showroom
Hardwood

Carpet

Waterproof

Luxury Vinyl

Vinyl

Tile

Laminate

Cork

Area Rugs
---
Services
Estimates, Installation, Flooring Types, Repairs
---
Get Your FREE Quote Today!
---
Featured items from this store
---
---
Our Story
Prestigious Flooring and Design has been a family-owned and installer-based company in the Atlanta area for over 19 years. Our Prestigious Flooring and Design team of experts provides high-quality flooring solutions at affordable prices.
Come visit us at our showroom at 795 Branch Dr, Alpharetta, GA 30004, USA and see every possible flooring option that we can provide for you. Schedule your free in-home design consultation, measuring and estimates. We are here to give you the affordable and quality floors you deserve.
---
Customer Reviews
"I couldn't be happier with the new flooring we had installed. We had wood stain to match existing flooring installed and it looks great! After the initial installation, a flaw was observed which was not acceptable to our sales representative and the flooring was stripped and the whole poly-seal process was repeated and the flooring turned out beautifully! From the start, Edwin (our sales rep) measured and quoted the project with absolutely no hidden charges. After that first flawed attempt, he insisted that it be done right, reasoning that if we could see the flaw then that wasn't acceptable. His approach was that he treated each job as if it were work being done in his own home and that things be done right. Although the job took a few days longer than normal because they had to restrip and seal the flooring, it was done right, which is more important to me than speed. I would highly recommend Prestigious for anyone wanting the job done right without hidden charges. It's rare to see businesses honestly operate this way these days."
"We have used Prestigious Flooring and Design twice, we replaced the carpet in bedrooms and installed a runner on our stairs. Jonathan was a huge help picking the carpet and pad, helped with overall look of the stair runner to make sure it tied in with rest of the common areas and would look fabulous (which it does). We are very happy with our choices, quality of the carpet; installation was completed timely and done very well. We highly recommend Prestigious Flooring and Design for any flooring needs."
"Jonathan and the installation team went above and beyond to get a very difficult transition completed that was a truly unique idea from the start. The space was in desperate need of carpeting for comfort and it is what we got. The entire team had a very can-do attitude and did not rest until it was perfect! We would also like to thank Prestigious Flooring and Design owner, Edwin for his assistance also to make it happen."
"Great job on shopping selection, service, and installation. Recommend highly."