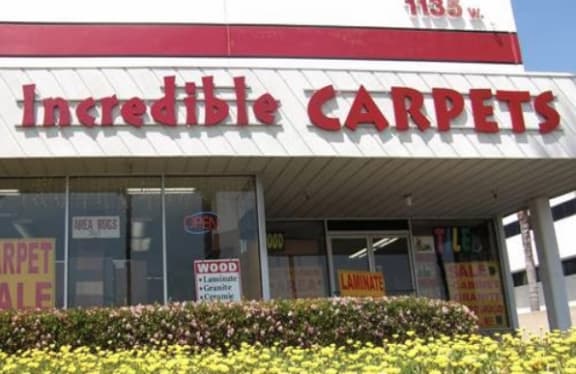 Incredible Flooring
---
Featured items from this store
---
Services
Installation

Mobile Showroom Only

Cleaning

Repairs

Remodeling
---
In Store Showroom
Hardwood

Carpet

Waterproof

Luxury Vinyl

Vinyl

Tile

Laminate

Cork

Area Rugs
---
Services
Estimates, Installation, Flooring Types, Repairs
---
Get Your FREE Quote Today!
---
Featured items from this store
---
---
Our Story
Incredible Flooring has been a family-owned company in Southern California since 2004.
Proudly serving the Riverside County, Tustin, Orange, Santa Ana, Irvine, and Orange County, our Incredible Flooring team of experts provides high-quality flooring solutions at affordable prices.
Come visit us at our showroom at 1135 W Katella Ave, Orange, CA 92867, USA and see every possible flooring option that we can provide for you. Schedule your free in-home design consultation, measuring and estimates. We are here to give you the affordable and quality floors you deserve.
---
Customer Reviews
"Look nowhere else and go to Incredible! Best (lowest) priced & good selections of BACKSLASH (also their Carpet and Bathroom Vanity are reasonably priced) – is this store. We needed BACKSLASH for the Bathroom Vanity. I compared the price, design and quality of more than 3 dozen of stores in Anaheim and Orange, on Bathroom Vanity, Backslash, Carpet, etc. This store does not have a showroom with high overhead cost, just an old warehouse. All those stores on the State College Street in Anaheim with fancy showrooms - are significantly overpriced. My rating on Incredible - 5 STARS without doubts. Recommend speaking to Juan or Mira."
"Look nowhere else and go to Incredible! Best (lowest) priced & good selections of BACKSLASH (also their Carpet and Bathroom Vanity are reasonably priced) – is this store. We needed BACKSLASH for the Bathroom Vanity. I compared the price, design and quality of more than 3 dozen of stores in Anaheim and Orange, on Bathroom Vanity, Backslash, Carpet, etc. This store does not have a showroom with high overhead cost, just an old warehouse. All those stores on the State College Street in Anaheim with fancy showrooms - are significantly overpriced. My rating on Incredible - 5 STARS without doubts. Recommend speaking to Juan."
"The best customer service ever!!! I had a wonderful experience doing my kitchen and master bathroom. I am very picky and Juan was vey patient with me. We definitely come back soon."
"These guys always take great care on me and do great work. Been using them for around 15 years."