Floor Depot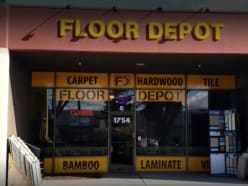 ---
Featured items from this store
---
Services
Installation

Mobile Showroom Only

Cleaning

Repairs

Remodeling
---
In Store Showroom
Hardwood

Carpet

Waterproof

Luxury Vinyl

Vinyl

Tile

Laminate

Cork

Area Rugs
1754 Junction Ave Suite E
San Jose, CA 95112
Directions
---
Services
Estimates, Installation, Flooring Types, Repairs
---
Get Your FREE Quote Today!
---
Featured items from this store
---
---
Our Story
Floor Depot is a family-owned and operated business, serving the San Francisco Bay Area. Floor Depot continues to offer the highest quality of flooring expertise, highest quality brands, materials, and installation. Floor Depot wants nothing less than your complete satisfaction, which is what our company is built on. Welcome to Floor Depot! We are passionate about making our customers happy and providing them with premium flooring at the lowest possible prices. With over 13 years of flooring experience, we have been successfully serving the San Francisco Bay Area for many years.
---
Customer Reviews
"Great flooring options and knowledgeable and helpful staff. Charlene, helped me pick the floors and was patient with my many questions and is still helping me find the best stair nose for my project. As a business they went above and beyond to successfully complete my flooring order. Edward, actually drove the floors himself and helped me place them in my home (all 17 boxes), after the delivery driver incorrectly delivered to the showroom instead of my home. Very thankful for the timely fix (matter of hours)."
"Great product and very nice people. They let me borrow their sample boards home, helped me loading and unloading from the car. After a few days, when I told them I will buy from a brand they don't carry. They are still very nice to me and helped me checking the one I gonna buy to make sure it is a solid brand. Appreciate it!"
"Geroge and Edward are very nice and honest. They helped me on the floor selection and made them installed one week earlier than the expected date. Both the floor and installation are with good quality, team is professional, price is fair. Thanks!"
"Many choices and very helpful and knowledgeable team. They can install your flooring as well. Me and my husband were hunting for good quality modern floor and good price. We totally got it here! Highly recommend. Just ordered flooring from the for the whole house. Thank you George for your help."